Titus 1
1
- Paul, a
servant
of God, and an
apostle
of
Jesus
Christ, according to the faith of God's chosen ones, and the knowledge of the truth which is according to godliness,
2
- in hope of eternal life, which God, who can't lie, promised before time began;
3
- but in his own time revealed his word in the message with which I was entrusted according to the commandment of God our Savior;
4
- to Titus, my true child according to a common faith: Grace, mercy, and peace from God the Father and the Lord
Jesus
Christ
our Savior.
5
- I left you in
Crete
for this reason, that you would set in order the things that were lacking, and appoint elders in every city, as I directed you;
6
- if anyone is blameless, the husband of one wife, having
children
who believe, who are not accused of loose or unruly behavior.
7
- For the overseer must be blameless, as God's steward; not self-pleasing, not easily angered, not given to wine, not violent, not greedy for dishonest gain;
8
- but given to hospitality, a lover of good, sober minded, fair, holy, self-controlled;
9
- holding to the faithful word which is according to the teaching, that he may be able to exhort in the sound doctrine, and to convict those who contradict him.
10
- For there are also many unruly men, vain talkers and deceivers, especially those of the circumcision,
11
- whose mouths must be stopped; men who overthrow whole houses, teaching things which they ought not, for dishonest gain's sake.
12
- One of them, a prophet of their own, said, "Cretans are always liars, evil beasts, and idle gluttons."
13
- This testimony is true. For this cause, reprove them sharply, that they may be sound in the faith,
14
- not paying attention to Jewish fables and commandments of men who turn away from the truth.
15
- To the pure, all things are pure; but to those who are defiled and unbelieving, nothing is pure; but both their mind and their conscience are defiled.
16
- They profess that they know God, but by their deeds they deny him, being abominable, disobedient, and unfit for any good work.
Select a Chapter
Select a Book of the Bible
Titus Images and Notes
The Book of Titus
Titus 1:4 - To Titus, [mine] own son after the common faith: Grace, mercy, [and] peace, from God the Father and the Lord Jesus Christ our Saviour.
Titus 3:5 - Not by works of righteousness which we have done, but according to his mercy he saved us, by the washing of regeneration, and renewing of the Holy Ghost;
Titus in The New Testament - A Brief Overview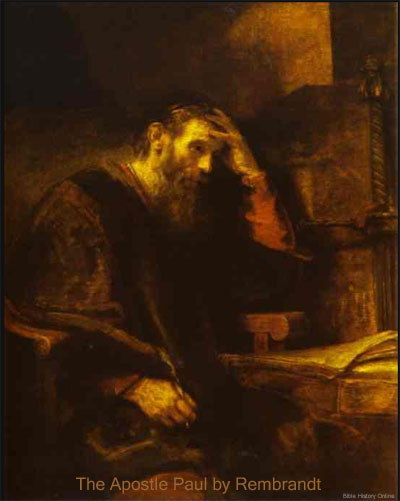 Painting of Paul the Apostle by Rembrandt - 1657
Introduction to The Book of Titus
Brief Summary. The Apostle Paul wrote to Titus an epistle to help him in leading the church against false teaching, and how to lead the church, as well as Christian living.
Summary of The Book of Titus
Purpose. Paul wrote his epistle to Titus because there was false teaching that had crept in to the church, and Paul desired to counsel Titus so that he could take the right course of action. He instructed Titus regarding the qualifications of an elder, how to deal with false teachers and the dangers they bring, and Paul also encourages him on living the Christian life.
Titus. Titus was a Gentile convert of the apostle Paul (Titus 1:4). There was a big debate in Jerusalem regarding Judaism and Christianity. The Jews in Jerusalem who were followers of Christ demanded that Titus be circumcised, and Paul resisted them because he wanted Titus to be an example of how Christ frees the believer from the law of Moses. Titus made two trips to Corinth to collect a contribution for the poor saints in Jerusalem and Paul commended him as a faithful helper (2 Corinthians 7-8).
Crete. When the apostle Paul was released from prison Titus had accompanied him, and Paul sent Titus to the island of Crete to help with the church there. The Cretans had a reputation of dishonesty, piracy, and loose morality. It is interesting to note that men from the island of Crete were in Jerusalem on the day of Pentecost when God poured out his Spirit and the church was born (Acts 2). Paul had visited the island of Crete and observed all the immorality of the people there, and even the church was difficult to organize.
Author. Paul the apostle
Date. Shortly after 1 Timothy, about AD 64 or 65. The epistle was written in either Nicopolis, Thessalonica, or Philippi, or somewhere on the road to Nicopolis.
Outline of the Book of Titus
Church Organization - Chapter 1
Church Living - Chapter 2
Pastoral Ministry - Chapter 3

The Name Jesus In Ancient Hebrew Text
"Yeshua" in First Century Hebrew Text. This is how the name "Jesus" would have been written in ancient Hebrew documents. The four letters or consonants from right to left are Yod, Shin, Vav, Ayin (Y, SH, OO, A). Jesus is the Greek name for the Hebrew name Joshua or Y'shua which means "The LORD or Yahweh is Salvation".
1 Timothy Maps and Resources
Map of the Roman Empire (14 A.D.) - This map reveals the Roman Empire during the time shortly after the birth of Jesus, in 14 AD at the time of the death of Augustus. The order which prevailed in this extensive empire, the good military roads, and the use of Koine Greek as the general language of culture throughout the area were among the factors which multiplied the rapid spread of the Gospel of Jesus Christ. (Color Map)
Map of Paul's First Missionary Journey (48 A.D.) - This map reveals the areas in Asia Minor where Paul visited in his first missionary journey. Around 48 AD, in the springtime, Paul and his companions Barnabas and Mark were sent on a mission from the church in Antioch. This would be the first of Paul's Missionary Journey's. (Color Map)
Map of Paul's Second Missionary Journey (51 A.D.) - This map reveals the areas in Asia and Greece where Paul visited in his second missionary journey. Paul re-visits a couple cities in Asia, one of which was Lystra where he was stoned and left for dead a few years earlier. He later has a vision that leads him over to Greece and Paul and his companions travel and minister in various cities in Greece (Philippi, Thessalonica, Berea, Athens and Corinth. Later Paul returns to Ephesus and finally to Caesarea and Antioch. (Color Map)
Map of Paul's Third Missionary Journey (54 A.D.) - This map reveals the areas in Asia and Greece where Paul visited in his third missionary journey. On Paul's third missionary journey he returned to the cities he had first visited on his first missionary journey. During this time he decided to remain in Ephesus for about 3 years, and this city was the main focus of his activities and an important Christian community (Acts 19). (Color Map)
Map of the New Testament World - This map reveals the "Nations" within the ancient world during the first century A.D., the time of the New Testament. The map includes the areas of Israel, Asia, Greece, and Italy. (Color Map)
Map of New Testament Greece This map reveals the cities within Greece in the ancient world during the first century A.D.,The map includes the principal cities of Greece like: Athens, Corinth, and Thessalonica, and provinces like Macedonia and Achaia. (Color Map)
Map of New Testament Asia - This map shows the cities within Asia Minor during the first century A.D., the time of the New Testament. The map includes the principal cities of Asia including Tarsus, Ephesus, and Colossae, and provinces like Galatia and Pamphilia. (Color Map)