Luke 22:40 And when He arrived at the place, He said to them, "Pray that you may not enter into temptation."

40. the place--the Garden of Gethsemane, on the west or city side of the mount. Comparing all the accounts of this mysterious scene, the facts appear to be these: (1) He bade nine of the Twelve remain "here" while He went and prayed "yonder." (2) He "took the other three, Peter, James, and John, and began to be sore amazed [appalled], sorrowful, and very heavy [oppressed], and said, My soul is exceeding sorrowful even unto death"--"I feel as if nature would sink under this load, as if life were ebbing out, and death coming before its time"--"tarry ye here, and watch with Me"; not, "Witness for Me," but, "Bear Me company." It did Him good, it seems, to have them beside Him. (3) But soon even they were too much for Him: He must be alone. "He was withdrawn from them about a stone's-cast"--though near enough for them to be competent witnesses and kneeled down, uttering that most affecting prayer (Mr 14:36), that if possible "the cup," of His approaching death, "might pass from Him, but if not, His Father's will be done": implying that in itself it was so purely revolting that only its being the Father's will would induce Him to taste it, but that in that view of it He was perfectly prepared to drink it. It is no struggle between a reluctant and a compliant will, but between two views of one event--an abstract and a relative view of it, in the one of which it was revolting, in the other welcome. By signifying how it felt in the one view, He shows His beautiful oneness with ourselves in nature and feeling; by expressing how He regarded it in the other light, He reveals His absolute obediential subjection to His Father. (4) On this, having a momentary relief, for it came upon Him, we imagine, by surges, He returns to the three, and finding them sleeping, He addresses them affectingly, particularly Peter, as in Mr 14:37, 38. He then (5) goes back, not now to kneel, but fell on His face on the ground, saying the same words, but with this turn, "If this cup may not pass," &c. (Mt 26:42) --that is, 'Yes, I understand this mysterious silence (Ps 22:1-6); it may not pass; I am to drink it, and I will'--"Thy will be done!" (6) Again, for a moment relieved, He returns and finds them "sleeping for sorrow," warns them as before, but puts a loving construction upon it, separating between the "willing spirit" and the "weak flesh." (7) Once more, returning to His solitary spot, the surges rise higher, beat more tempestuously, and seem ready to overwhelm Him. To fortify Him for this, "there appeared an angel unto Him from heaven strengthening Him"--not to ministerlight or comfort (He was to have none of that, and they were not needed nor fitted to convey it), but purely to sustain and brace up sinking nature for a yet hotter and fiercer struggle. And now, He is "in an agony, and prays more earnestly"--even Christ's prayer, it seems, admitted of and now demanded such increase--"and His sweat was as it were great drops [literally, 'clots'] of blood falling down to the ground." What was this? Not His proper sacrificial offering, though essential to it. It was just the internal struggle, apparently hushing itself before, but now swelling up again, convulsing His whole inner man, and this so affecting His animal nature that the sweat oozed out from every pore in thick drops of blood, falling to the ground. It was just shuddering nature and indomitable will struggling together. But again the cry, If it must be, Thy will be done, issues from His lips, and all is over. "The bitterness of death is past." He has anticipated and rehearsed His final conflict, and won the victory--now on the theater of an invincible will, as then on the arena of the Cross. "I will suffer," is the grand result of Gethsemane: "It is finished" is the shout that bursts from the Cross. The Will without the Deed had been all in vain; but His work was consummated when He carried the now manifested Will into the palpable Deed, "by the which WILL we are sanctified THROUGH THE OFFERING OF THE BODY OF JESUS CHRIST ONCE FOR ALL" (Heb 10:10). (8) At the close of the whole scene, finding them still sleeping (worn out with continued sorrow and racking anxiety), He bids them, with an irony of deep emotion, "sleep on now and take their rest, the hour is come, the Son of man is betrayed into the hands of sinners, rise, let us be going, the traitor is at hand." And while He spoke, Judas approached with his armed band. Thus they proved "miserable comforters," broken reeds; and thus in His whole work He was alone, and "of the people there was none with Him."
JFB.
Questions Related to this Verse
Where In Scripture Does It Talk About Temptation?
Where in scripture does it talk about the death of Jesus Christ?
Select a Chapter
Select a Book of the Bible
Luke Images and Notes
The Book of Luke
Luke 1:1-4 - Forasmuch as many have taken in hand to set forth in order a declaration of those things which are most surely believed among us, Even as they delivered them unto us, which from the beginning were eyewitnesses, and ministers of the word; It seemed good to me also, having had perfect understanding of all things from the very first, to write unto thee in order, most excellent Theophilus, That thou mightest know the certainty of those things, wherein thou hast been instructed.
Luke 2:49 - And he said unto them, How is it that ye sought me? wist ye not that I must be about my Father's business?
Luke 19:42 - Saying, If thou hadst known, even thou, at least in this thy day, the things [which belong] unto thy peace! but now they are hid from thine eyes.
Luke in The New Testament - A Brief Overview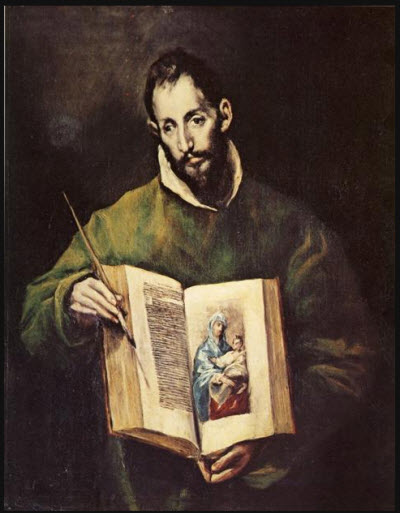 Painting of St. Luke by El Greco - 1605
Introduction to The Gospel of Luke
The Word Gospel. The third book of the English Bible that most of us read from is the Gospel of Luke. Luke is the third of the four gospel writings, yet there is only one gospel about Jesus Christ and there are four different writers: Matthew, Mark, Luke, and John. The word "Gospel" means "good news", and the good news is about Jesus Christ dying on the cross and then 3 days later conquering death and rising from the dead, offering salvation to all mankind, this is the Gospel.
Summary of The Book of Luke
Brief Summary. Jesus was the most perfect man of all men, the perfect Son of God. Completely devoted to everyone, especially the weak. He was the most humble man that ever lived, and not only a servant, but the lowest slave. He completely put others first before He thought of Himself, the Son of man.
Purpose. Luke seems to portray Jesus as an ideal man, very appealing to the Greek culture which exalted reason, philosophy, the human mind, and beauty. Luke's writings were orderly and classical. he mentions that Jesus spent the whole night in prayer before He chose His apostles (Luke 6:12-16), unlike the other Gospel accounts. There are also statements in Luke that speak of His purity more clearly, like when the centurion said "certainly this was a righteous man" (Luke 23:47). The other Gospel accounts seem to have a different focus in their portrayal of Christ. Luke also seems to reveal Christianity as a religion for all mankind and not just the Jews. For example, the lineage of Jesus is traced past Abraham all the way back to Adam the first man. Jesus is seen in Luke as a friend of sinners and a savior to anyone who would believe in Him. When considering both of Luke's works it is clear that he traces the origin, heart, and description of the Christian movement from Bethlehem to Jerusalem, to Antioch, to Macedonia, to Achaia, to Ephesus, and finally to Rome, the capital of the world. He examined eyewitnesses, knew personally and had close contact with the main followers of Christ like Mark and James, the brother of the Lord, Paul. Silas (a member of the Jerusalem Church) and no doubt many others.
Audience. Luke addressed his account of the life of Christ and the Acts of the Apostles to a man named Theophilus, yet it possesses a style that would appeal to all intelligent gentiles and would certain appeal to any believer. Theophilus could have been a gentile convert to Christianity who desired to know more of the facts surrounding the life of Jesus Christ, possibly a wealthy contributor to Christianity, no one can say for certain. The name Theophilus means "lover of God" and has been supposed by many to be a euphemism for all lovers of God in Christ.
Authorship. The gospel of Luke does not proclaim who the author is within the document, yet the historical information we have from the first two centuries of the Christian Era was unanimous in concluding that the writer was Luke. Luke also wrote the Acts of the Apostles (Acts 1:1) as a continuing document, from the birth of John the Baptist and Jesus to Paul's imprisonment and ministry in Rome.
Date. Since the Book of Acts was written while Paul was in Rome, the date of Acts would be around 62 AD, and since the Gospel of Luke was mentioned as a "former 'treatise," Luke must have been written a few years earlier.
Place. It cannot be determined with certainty where the Gospel of Luke was written. Some of the early Church writers said it was written in Achaia. Many think Acts was most likely written in Rome and therefore Luke must have also. One common speculation is that the Gospel of Luke was written in Caesarea Maritima while Paul was in prison there a couple years before his journey to Rome.
The Man Luke. Luke was a gentile (non-Jew) and was not mentioned during the actual life of Jesus, but afterward he became a Christian under the influence of Paul the Apostle. Luke was described by Paul in his letter to the Church in Colossae as "the beloved physician" (Colossians 4:14). Luke was also mentioned as a companion of Paul on his missionary journeys, and on his third and last missionary journey he said that "only Luke is with me" (2 Timothy 4:11). Luke must have been an amazing man because he claims in the beginning of his account of the life of Christ that he "investigated everything carefully" (Luke 1 :1- 4). This would mean that he would have spoken with eyewitnesses to the miracles and events surround the ministry of Jesus. He was clearly persuaded by the facts that he was told and became a devoted follower of Christ and a companion of Paul until the end. There can be no doubt that Luke was a gentile believer, even his name "Luke" is a gentiloe name. Also in Colossians 4 it mentions the names Epaphras, Demas and Luke in contrast with those "of the circumcision." It is interesting to note that early Church leaders Irenaeus, Tertullian, Origen, and Eusebius mentioned in their writings that Luke was influenced by Paul when he wrote the third Gospel account.
Language. Luke was written in Greek, he was a gentile believer and uses a style similar to other important Greek documents. He uses a popular, non-literary Greek style, omitting Semitic and Latin "barbarisms"; yet, he manifests a rich vocabulary and a high degree of literary artistry, as seen in his ability to sketch the character of an individual in a few graphic strokes of the pen. A noted French philosopher and critic of the Bible called the book of Luke "the most beautiful book ever written."
Historical Trustworthiness. Throughout the history of the Church and especially during the 1800's their has been many targeted attacks on the historical trustworthiness of Luke's writings. As the science of archaeology increased technologically and archaeological discoveries from the first century were being uncovered, Luke's writings were emerged as extremely accurate. Luke has been heralded by many scholars as one of the ablest and most accurate historians of the ancient world.
Outline of the Book of Luke
His Birth, Childhood, Early Ministry - Chapters 1:1-4:13
His Ministry in Galilee - Chapters 4:14-9:50
His Journey to Jerusalem, Ministry - Chapters 9:51-21:38
His Rejection and Death - Chapters 22:1-23:56
His Resurrection and Ascension - Chapter 24:1-53

The Name Jesus In Ancient Hebrew Text
"Yeshua" in First Century Hebrew Text. This is how the name "Jesus" would have been written in ancient Hebrew documents. The four letters or consonants from right to left are Yod, Shin, Vav, Ayin (Y, SH, OO, A). Jesus is the Greek name for the Hebrew name Joshua or Y'shua which means "The LORD or Yahweh is Salvation".
Luke Resources
Outline of the Life of Jesus in Harmony
Simple Map of First Century Israel
Topographical Map of First Century Israel
Map of the Ministry of Jesus
Map of the Roads in Ancient Israel
Map of the Roman Empire