Exodus 7:1 Then the LORD said to Moses, "See, I make you [as] God to Pharaoh, and your brother Aaron shall be your prophet.

Ex 7:1-25. SECOND INTERVIEW WITH PHARAOH.
1. the Lord said unto Moses--He is here encouraged to wait again on the king--not, however, as formerly, in the attitude of a humble suppliant, but now armed with credentials as God's ambassador, and to make his demand in a tone and manner which no earthly monarch or court ever witnessed.
I have made thee a god--"made," that is, set, appointed; "a god"; that is, he was to act in this business as God's representative, to act and speak in His name and to perform things beyond the ordinary course of nature. The Orientals familiarly say of a man who is eminently great or wise, "he is a god" among men.
Aaron thy brother shall be thy prophet--that is, "interpreter" or "spokesman." The one was to be the vicegerent of God, and the other must be considered the speaker throughout all the ensuing scenes, even though his name is not expressly mentioned.
JFB.
Questions Related to this Verse
Where in Scripture does Aaron Meet Moses in the wilderness and is made the spokesman for Moses?
Select a Chapter
Select a Book of the Bible
Exodus 7 Images and Notes
Brief Summary:
Moses is appointed to give the Word of the LORD to Pharaoh, The LORD will multiply His signs and wonders in the land of Egypt, Aaron's rod becomes a serpent, Pharaoh's heart is hardened, The river is turned into blood, The magicians of Egypt imitate the miracles of Moses and Aaron.
Outline
1 Moses is encouraged to go to Pharaoh
7 The age of Moses is 80 and Aaron 83
10 His rod Is turned Into a serpent
11 The sorcerers do the same
13 Pharaoh's heart is hardened
14 God's message to Pharaoh
19 The river is turned into blood
Ancient Customs
prophet
rod
magicians
wise men
sorcerers
Pharaoh by the river's brink
blood
Pharaoh's house
IRRIGATION.
RECEPTACLES FOR NILE WATER
REVERENCE FOR RIVERS ABHORRENCE OF BLOOD
NILE WATER
Quick Reference Map


Map of the Nile River and Egypt (Click to Enlarge)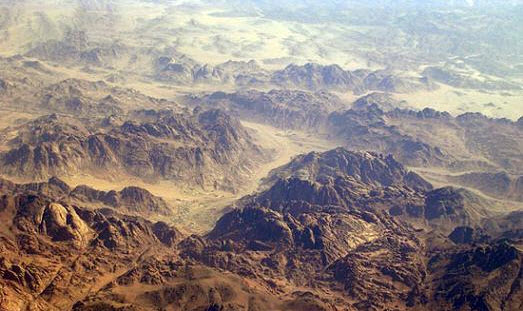 Photo of the Sinai Wilderness
Ancient Topics
I will harden Pharaoh's heart
Ancient People
God, Moses, Pharaoh
Egyptians
children of Israel
Hebrews
Geography
Egypt
the land of Canaan
Quick Reference Maps
The Old Testament
Exodus Resources
Moses and the Exodus
The Giving of the Law
The Tabernacle
The Wilderness Wanderings