Exodus 40:35 And Moses was not able to enter the tent of meeting because the cloud had settled on it, and the glory of the LORD filled the tabernacle.

35. Moses was not able to enter into the tent of the congregation--How does this circumstance show the incapacity of man, in his present state, to look upon the unveiled perfections of the Godhead! Moses could not endure the unclouded effulgence, nor the sublimest of the prophets (Isa 6:5). But what neither Moses nor the most eminent of God's messengers to the ancient church through the weakness of nature could endure, we can all now do by an exercise of faith; looking unto Jesus, who reflected with chastened radiance the brightness of the Father's glory; and who, having as the Forerunner for us, entered within the veil, has invited us to come boldly to the mercy seat. While Moses was compelled, through the influence of overwhelming awe, to stand aloof and could not enter the tabernacle, Christ entered into the holy place not made with hands; nay, He is Himself the true tabernacle, filled with the glory of God, ever with the grace and truth which the Shekinah typified. What great reason we have to thank God for Jesus Christ, who, while He Himself was the brightness of the Father's glory, yet exhibited that glory in so mild and attractive a manner, as to allure us to draw near with confidence and love into the Divine Presence!
JFB.
Questions Related to this Verse
Where in Scripture does it mention the glory of God?
Where in Scripture does it mention worship?
Select a Chapter
Select a Book of the Bible
Exodus 40 Images and Notes
Brief Summary:
In this chapter, I. Orders are given for the setting up of the tabernacle and the fixing of all the appurtenances of it in their proper places (v. 1-8), and the consecrating of it (v. 9-11), and of the priests (v. 12-15). II. Care is taken to do all this, and as it was appointed to be done (v. 16-33). III. God takes possession of it by the cloud (v. 34, etc.).
Outline
The tabernacle is to be set up, Aaron and his sons to be sanctified. (1-15)
Moses performs all as directed. (16-33)
The glory of the Lord fills the tabernacle. (34-38)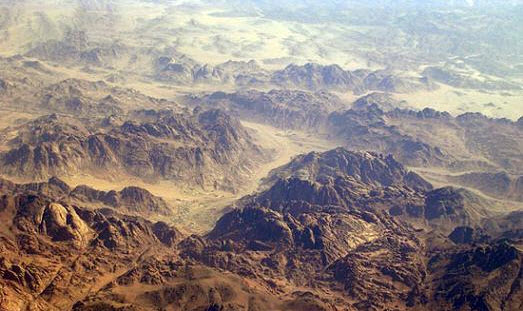 Photo of the Sinai Wilderness
Important Topics for Bible Study

Quick Reference Map


Map of the Possible Route of the Exodus (Click to Enlarge)
Ancient Customs

Ancient People

Geography
the wilderness
the mount of God

Quick Reference Maps

Map of the Red Sea and Egypt (Click to Enlarge)
The Old Testament
Exodus Resources
Moses and the Exodus
The Giving of the Law
The Tabernacle
The Wilderness Wanderings