Exodus 14:21 Then Moses stretched out his hand over the sea; and the LORD swept the sea [back] by a strong east wind all night, and turned the sea into dry land, so the waters were divided.

21. Moses stretched out his hand, &c.--The waving of the rod was of great importance on this occasion to give public attestation in the presence of the assembled Israelites, both to the character of Moses and the divine mission with which he was charged.
the Lord caused . . . a strong east wind all that night--Suppose a mere ebb tide caused by the wind, raising the water to a great height on one side, still as there was not only "dry land," but, according to the tenor of the sacred narrative, a wall on the right hand and on the left [Ex 14:22], it would be impossible on the hypothesis of such a natural cause to rear the wall on the other. The idea of divine interposition, therefore, is imperative; and, assuming the passage to have been made at Mount Attakah, or at the mouth of Wady Tawarik, an east wind would cut the sea in that line. The Hebrew word kedem, however, rendered in our translation, "east," means, in its primary signification, previous; so that this verse might, perhaps, be rendered, "the Lord caused the sea to go back by a strong previous wind all that night"; a rendering which would remove the difficulty of supposing the host of Israel marched over on the sand, in the teeth of a rushing column of wind, strong enough to heap up the waters as a wall on each side of a dry path, and give the intelligible narrative of divine interference.
JFB.
Questions Related to this Verse
Select a Chapter
Select a Book of the Bible
Exodus 14 Images and Notes
Brief Summary:
The Israelites leave Egypt, the Israelites pass through the Red Sea on dry land, the Lord overthrows the Egyptian army in the midst of the sea.
Outline
1 God instructs the Israelites in their journey.
5 Pharaoh pursues after them
10 The Israelites murmur
13 Moses comforts them
15 God instructs Moses
19 The cloud removes behind the camp
21 The Israelites pass through the Red Sea
23 The Egyptians pursuing them are drowned.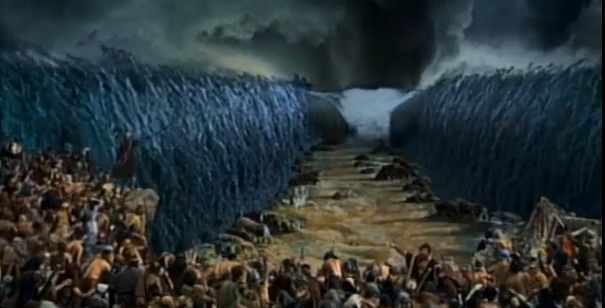 Painting of Moses Dividing the Waters of the Red Sea
Important Topics for Bible Study
Verse- Topic
1-2: the Lord commands the Israelites to encamp at Pihahiroth
3-4: God reveals why they were encamped there
5: Pharaoh grieves for leading the Israelites go from Egypt
8-9: Pharaoh pursues and overtakes the Israelites
10: the Israelites are filled with fear
11-12: the Israelites complain against Moses
13-14: Moses promises the Israelites that God will deliver them
15: Moses received encouragement from the Lord
16: the Israelites are encouraged to move forward
19-20: the pillar of cloud moves to defend the Israelites
21: Moses raises his staff and the sea divides
22: the Israelites walk across the Red Sea on dry ground
23: the Egyptians and their chariots pursue the Israelites into the sea
26: the Lord commands Moses to make the waters return
27-28: the waters return on the Egyptian army and they drown
29-30: every Israelite crossed to the other side safely
31: the Israelites feared the Lord and believed in him, and Moses

Quick Reference Map


Map of the Possible Route of the Exodus (Click to Enlarge)
Ancient Customs
Egyptian chariot
pillar of a cloud
pillar of fire
Egyptian captains
Pharaoh's horsemen
Pharaoh's army
Egyptians marched
no graves in Egypt
the Rod of Moses
the camp of the Egyptians
strong east wind
a wall unto them
the morning watch
chariot wheels
Ancient People
God, Moses, Pharaoh
the Angel of the LORD
Geography
Egypt
the way of the land of the Philistines
Pihahiroth
Migdol
the Red sea
Baalzephon
the wilderness

The Parting of the Red Sea in 3d
Quick Reference Maps

Map of the Red Sea and Egypt (Click to Enlarge)
The Old Testament
Exodus Resources
Moses and the Exodus
The Giving of the Law
The Tabernacle
The Wilderness Wanderings