Exodus 14:30 Thus the LORD saved Israel that day from the hand of the Egyptians, and Israel saw the Egyptians dead on the seashore.

30. Israel saw the Egyptians dead upon the sea-shore, &c.--The tide threw them up and left multitudes of corpses on the beach; a result that brought greater infamy on the Egyptians, but that tended, on the other hand, to enhance the triumph of the Israelites, and doubtless enriched them with arms, which they had not before. The locality of this famous passage has not yet been, and probably never will be, satisfactorily fixed. Some place it in the immediate neighborhood of Suez; where, they say, the part of the sea is most likely to be affected by "a strong east wind" [Ex 14:21]; where the road from the defile of Migdol (now Muktala) leads directly to this point; and where the sea, not above two miles broad, could be crossed in a short time. The vast majority, however, who have examined the spot, reject this opinion, and fix the passage, as does local tradition, about ten or twelve miles further down the shore at Wady Tawarik. "The time of the miracle was the whole night, at the season of the year, too, when the night would be about its average length. The sea at that point extends from six and a half to eight miles in breadth. There was thus ample time for the passage of the Israelites from any part of the valley, especially considering their excitement and animation by the gracious and wonderful interposition of Providence in their behalf" [WILSON].
JFB.
Questions Related to this Verse
Where in Scripture does it mention the preserving nature of God?
Select a Chapter
Select a Book of the Bible
Exodus 14 Images and Notes
Brief Summary:
The Israelites leave Egypt, the Israelites pass through the Red Sea on dry land, the Lord overthrows the Egyptian army in the midst of the sea.
Outline
1 God instructs the Israelites in their journey.
5 Pharaoh pursues after them
10 The Israelites murmur
13 Moses comforts them
15 God instructs Moses
19 The cloud removes behind the camp
21 The Israelites pass through the Red Sea
23 The Egyptians pursuing them are drowned.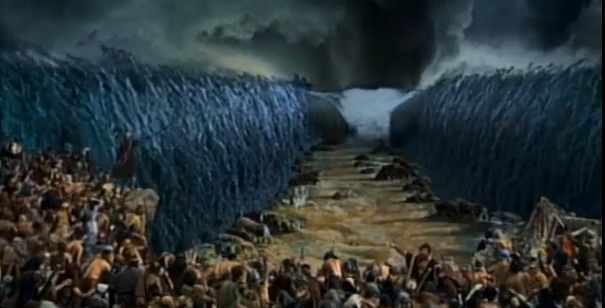 Painting of Moses Dividing the Waters of the Red Sea
Important Topics for Bible Study
Verse- Topic
1-2: the Lord commands the Israelites to encamp at Pihahiroth
3-4: God reveals why they were encamped there
5: Pharaoh grieves for leading the Israelites go from Egypt
8-9: Pharaoh pursues and overtakes the Israelites
10: the Israelites are filled with fear
11-12: the Israelites complain against Moses
13-14: Moses promises the Israelites that God will deliver them
15: Moses received encouragement from the Lord
16: the Israelites are encouraged to move forward
19-20: the pillar of cloud moves to defend the Israelites
21: Moses raises his staff and the sea divides
22: the Israelites walk across the Red Sea on dry ground
23: the Egyptians and their chariots pursue the Israelites into the sea
26: the Lord commands Moses to make the waters return
27-28: the waters return on the Egyptian army and they drown
29-30: every Israelite crossed to the other side safely
31: the Israelites feared the Lord and believed in him, and Moses

Quick Reference Map


Map of the Possible Route of the Exodus (Click to Enlarge)
Ancient Customs
Egyptian chariot
pillar of a cloud
pillar of fire
Egyptian captains
Pharaoh's horsemen
Pharaoh's army
Egyptians marched
no graves in Egypt
the Rod of Moses
the camp of the Egyptians
strong east wind
a wall unto them
the morning watch
chariot wheels
Ancient People
God, Moses, Pharaoh
the Angel of the LORD
Geography
Egypt
the way of the land of the Philistines
Pihahiroth
Migdol
the Red sea
Baalzephon
the wilderness

The Parting of the Red Sea in 3d
Quick Reference Maps

Map of the Red Sea and Egypt (Click to Enlarge)
The Old Testament
Exodus Resources
Moses and the Exodus
The Giving of the Law
The Tabernacle
The Wilderness Wanderings