Schaff's Bible Dictionary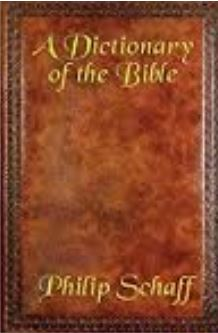 Definitions in Biblical History
A
B
C
D
E
F
G
H
I
J
K
L
M
N
O
P
Q
R
S
T
U
V
W
X
Y
Z
What are Oaks?
OAKS
(strong is the meaning of most of the six Hebrew words thus rendered). In the following passages, at least, the word probably denotes the terebinth, or the elm of Hos 4:13, see Teil Tree: Gen 35:4, 1 Kgs 15:8; Jud 6:11, Acts 1:19; 2 Sam 18:9-10, 2 Sam 18:14; 1 Kgs 13:14; 1 Chr 10:12; Isa 1:30; Eze 6:13. In other instances "oak" may denote any strong flourishing tree, Am 2:9, or a grove of such trees. Botanists find three species of this tree in Palestine. One of the most universal and characteristic bushes of the country is the prickly evergreen-oak (Quercus pseudo-coccifera), which has a leaf like the holly, but smaller. This oak now rarely exceeds 12 feet in height, but when the destruction of trees was less universal it doubtless attained great size and age. "Abraham's Oak," in the field of Mamre, near Hebron, the noblest tree of Southern Palestine, is of this species, and is 23 feet in girth; and there are said to be still finer specimens in the north and east. The Valonia oak (Q. aegilops) sheds its leaves and more resembles some of our own species. The trunk is unusually massive, and the tree often grows to a magnificent size. It is not seen in the south, but abounds in the north, especially about Mount Tabor and also east of the Jordan, and is doubtless the "oak of Bashan." Isa 2:12-13; Zech 11:2. It produces very large acorns, which are eaten by the poor, while their cups are employed by tanners under the name of Valeria, and exported from many parts of the Turkish empire. Another kind (Q. infectoria) sometimes occurs in Samaria and Galilee as a small tree with deciduous leaves, white beneath. Travellers through the uninhabited districts of Gilead and Bashan have found there magnificent forests of all three species. In the Bible we find these noble trees often mentioned for the purpose of designating the locality of important events, as in Gen 35:8; Josh 24:20. Oakwood was used for idols. Isa 44:14. The word translated "plains" in several passages - Gen 12:6; Gen 13:18; Gen 14:13; Gen 18:1; Deut 11:30; Jud 4:11; Isa 9:6, 1 Chr 9:37; 1 Sam 10:3 - means places noted for one or more oaks. See cut under Abraham's Oak.
Bibliography Information
Schaff, Philip, Dr. "Biblical Definition for 'oaks' in Schaffs Bible Dictionary".
bible-history.com - Schaff's
Copyright Information
© Schaff's Bible Dictionary
Schaff's Bible Dictionary Home
Bible History Online Home


Bible Encyclopedia (ISBE)
Online Bible (KJV)
Naves Topical Bible
Smith's Bible Dictionary
Easton's Bible Dictionary
Schaff's Bible Dictionary
Fausset's Bible Dictionary
Matthew Henry Bible Commentary
Hitchcock's Bible Dictionary
Related Bible History