Learn about the Ancient World
Manners and Customs


________________
Ancient Places


________________
Ancient Peoples


________________
Ancient Battles


________________
Ancient Gods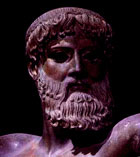 and More.
BKA 38 was written with the help of James Darden, creator of the Greek Flash Pro.
Archaelogical Photos, Beautiful Artwork, Comprehensive Text, Graphical Illustrations, Maps, and More.
Note: There are many more programs that are being upgraded to Windows and will be available soon. Please be patient and pray that the Lord frees up my very busy schedule.
Please feel free to distribute to friends, ftp sites, and other online services.
Introduction to New Testament Greek
By Rusty Russell and James Darden

Download by clicking on this link:

Bible Knowledge Accelerator #38: Greek Language v5.7.96

Download Size (296 kb)

If you encounter a problem you can also click here to download but please try to use the top link.

(This program is still being finished)

A brief history of the Greek language and a simple learning tool that quickly teaches you the basics about reading and writing Biblical Greek. The purpose of this information program is not for mastering the Greek language. Hopefully after this short introduction you will: 1) Feel confident using Greek tools such as lexicons, Greek commentaries, and interlinears . 2) No longer feel left in the dark when a pastor says things like, "In the Greek, this passage means such and such." 3) Have the desire to go on master the Greek language. Learn about Pronunciation, Vowels, Diphthongs, Consonants, Breathing Marks, Accent Marks, Punctuation, etc.

The Parthenon. It is the most important and characteristic monument of the ancient Greek civilization and still remains its international symbol. It was dedicated to Athena Parthenos, the patron goddess of Athens. It was built between 447 and 438 B.C. and its sculptural decoration was completed in 432 B.C.

The parthenon in Nashville (below) is the world's only full-size replica of the ancient Parthenon in Athens.

---
One of the greatest religious festivals held in ancient Greece was the athletic contest held at Olympia every four years in honor of Zeus. All wars were to cease until the games were over. The ceremonies began and then athletes were introduced, and each swore that he was Greek born and had accepted no bribes.
Then the games began with each contestant participating in five events called the pentathlon. They consisted of running, jumping, discus throwing, and javelin hurling. The athelete who won the most events was called the victor. The winners were presented with an olive wreath, palm branches, and wool ribbons. There were other events like boxing, horse racing, chariot racing, and the brutal Pancratium where everything in one-on-one was allowed except biting and eye-gouging.
(Continued on the right...)

Guestbook
Please sign the guestbook to let me know who you are and if you would like to be put on the mailing list for future updates.

BKA Downloads
List of BKA programs
About BKA Programs
Find out about more about BKA and see a list of programs.
Bible & History Art
Images and Art with Slides and Transparencies to use in your Bible studies.
Looking Backwards
Unique devotionals about the Bible and History.
Resource Directory
Lots of great links to sites about
the ancient world..
ADD A SITE
Search Engines
Some excellent search engine tools.
Study Tools
Some study tools to assist you with your online Bible studies.
Message Board
Leave a message with questions or comments.
New Maps
16 highly detailed maps on the Provinces of the Roman Empire.

Understanding Judaism is essential to understanding the unique teaching in the Bible. That is why there is a special emphasis in all the BKA programs to their culture, history, and writings.

Check out Paradigm Software's GREEK FLASH PRO for an excellent Greek flash card software utility.
The ancient Olympics suddenly ended in 395 AD when two violent earthquakes destroyed Olympia. They never emerged again until 1896 AD when a Frenchman named Pierre De Coubertin was inspired to organize the first modern Olympic games. Some aspects of the ancient Olympics have been preserved. It is interesting to note that in the relay race the torch was passed from runner to runner until the last runner of the winning team lit a fire on an altar to Zeus. This is where the Olympic Flame originated.