Learn about the Ancient World
Manners and Customs


________________
Ancient Places


________________
Ancient Peoples


________________
Ancient Battles


________________
Ancient Religions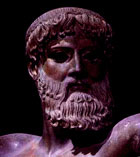 and More.
Programs to Download
by Rusty Russell
new BKA Programs for Purchase -4.95 each
Free to Download

BKA #1 The Incredible Bible
BKA #2 The Story of the Bible - Part 1 "The Old Testament"
BKA #5 A Harmony of the Life Of Jesus
BKA #37 The Hebrew Language
BKA #38 Introduction to New Testament Greek
BKA #14 The Tabernacle of Israel
BKA #4 The Story of the Bible - Part 3 "The Spread of Christianity" Take a preview look at this program.
Maps of the Roman provinces These maps are supplements to BKA #4.

new BKA 41 The Babylonians
The Babylonians spans the history of Babylonia from 2000 BC to 539 BC. It includes a general overview of Babylonian history and culture, with maps, timelines, photos, illustrations, and a glossary. Lots of graphics. This tool should assist any student of Biblical history in understanding ancient Babylonia, God's work in this time period, and the purposes of God according to the Bible.

BKA 45 The Hebrew Torah
Designed to help the student to understand how to properly pronounce the Hebrew books of the Bible. They also include a brief synopsis of each book, and some other topics. Instructions are very self explanatory. Just click on the links and listen to the pronunciation.

BKA 50 New Testament Palestine Map Program
This BKA program contains a detailed map of New Testament Palestine and pop-up definitions with detailed information about the New Testament cities, mountains, rivers, regions, and more.

BKA 40 The History of Rome- Pt 1

Download From Site 1

Augustus Caesar (31 BC-14 AD). Jesus was born during the reign of Augustus and it was he who ordered the census that brought Jesus' parents to the little city of Bethlehem in Judea which was set apart by God in His foreknowledge as the birthplace of the Messiah Jesus Christ.
Note: There are many more programs that are being upgraded to Windows and will be available soon. Please be patient and pray that the Lord frees up my very busy schedule.
The Bible Knowledge Accelerator programs are designed to be informational tools and are free to the public. To see a list of them click on:
Please feel free to distribute to friends, ftp sites, and other online services.
Archaeological Photos, Beautiful Artwork, Comprehensive Text, Graphical Illustrations, Maps, and More.