Learn about the Ancient World
Manners and Customs


________________
Ancient Places


________________
Ancient Peoples


________________
Ancient Battles


________________
Ancient Gods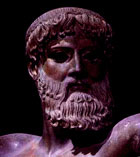 and More.
I1Kings 17:20-23 "Therefore the LORD was very angry with Israel, and removed them from His sight; there was none left but the tribe of Judah alone. . And the LORD rejected all the descendants of Israel, afflicted them, and delivered them into the hand of plunderers, until He had cast them from His sight. For He tore Israel from the house of David, and they made Jeroboam the son of Nebat king...
Archaelogical Photos, Beautiful Artwork, Comprehensive Text, Graphical Illustrations, Maps, and More.
The Story of the Bible - Part 1
"The Old Testament"
by Rusty Russell

Download by clicking on this link:

Bible Knowledge Accelerator#2: Story of Bible, 1 v8.30.95

Site 1 Download Size (639 kb)
This is a very simple overview of the history of the Old Testament from the creation of the world to the destruction and rebuilding of Jerusalem. It follows the major people and events of the Old Testament in chronological order.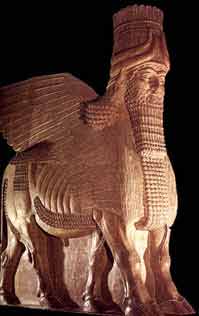 This 15 foot Winged Bull with a human head from Khorsabad can be seen at the British Museum in London. It once stood guard against evil spirits at the gateway to the palace of Sargan II ruler of Assyria.

It was the Assyrians that destroyed the northern kingdom of Israel under Shalmaneser IV who besieged Samaria and then died during the siege leaving Sargon II to finish the task and drag Israel into captivity. After defeating the northern kingdom of Israel in 722 BC, the Assyrians carried away thousands of Israelites and resettled them in other parts of the Assyrian Empire.

Assyrian policy was to deport conquered peoples to other lands within the empire, to destroy their sense of nationalism, and break any pride or hope of rebellion and replace them with strangers from far away. Assyrians were great warriors. Most nations at that time period were looters, building their state by robbing other nations. Assyria was the most ferocious of them all. Their very name became a byword for cruelty and atrocity. They skinned their prisoners alive, and cut off various body parts to inspire terror in their enemies.

"And the Lord will make Ninevah a desolation ..." Zeph 2:13-14

On the east bank of the Tigris river lay massive mounds of ruins where there stood the splendid capital city of the Assyrians with its great palaces and buildings. There is record of Alexander the Great, when he was near Nineveh, not recognizing that it once was the center of the great Assyrian empire.
Note: There are many more programs that are being upgraded to Windows and will be available soon. Please be patient and pray that the Lord frees up my very busy schedule.
The Bible Knowledge Accelerator programs are designed to be informational tools and are free to the public. To see a list of them click on:
Please feel free to distribute to friends, ftp sites, and other online services.

Guestbook
Please sign the guestbook to let me know who you are and if you would like to be put on the mailing list for future updates.

BKA Downloads
List of BKA programs
About BKA Programs
Find out about more about BKA and see a list of programs.
Bible & History Art
Images and Art with Slides and Transparencies to use in your Bible studies.
Looking Backwards
Unique devotionals about the Bible and History.
Resource Directory
Lots of great links to sites about
the ancient world..
ADD A SITE
Search Engines
Some excellent search engine tools.
Study Tools
Some study tools to assist you with your online Bible studies.
Message Board
Leave a message with questions or comments.
New Maps
16 highly detailed maps on the Provinces of the Roman Empire.

Understanding Judaism is essential to understanding the unique teaching in the Bible. That is why there is a special emphasis in all the BKA programs to their culture, history, and writings.

Check this site out!
...Then Jeroboam drove Israel from following the LORD, and made them commit a great sin. For the children of Israel walked in all the sins of Jeroboam which he did; they did not depart from them, until the LORD removed Israel out of His sight, as He had said by all His servants the prophets. So Israel was carried away from their own land to Assyria, as it is to this day."