Learn about the Ancient World
Manners and Customs


________________
Ancient Places



________________
Ancient Peoples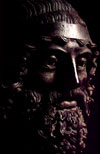 ________________
Ancient Battles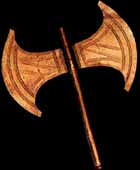 ________________
Ancient Gods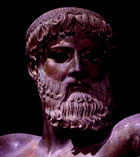 and More.
This program has been designed for the more serious student of the Bible and history, whatever age he or she might be. The information available is very easily accessible and the text can be copied and pasted right into your own personal document.
Maps of the Provinces of
the Roman Empire
by Rusty Russell

Download by clicking on this link:

Roman Provinces in Asia Minor

Site 1 Download Size (1.3 mb)
This program was specifically designed to go with the Bible Knowledge Accelerator #4 "The Spread of Christianity," from the birth of the Church to the ministry of Paul in Rome. This particular map program on ASIA MINOR is part of a 16 map series containing detailed maps of the Roman Empire, although only 4 maps will be needed for BKA #4: SYRIA, ASIA MINOR, GREECE, and ROME. This program deals with ASIA MINOR and its provinces. It also covers topics about its geography and landscape in ancient and modern times and includes an extra map of all the Roman provinces during the period between 70-120 AD with pop-up names of each province. You can use the main map side by side with BKA #4 "The Spread of Christianity." My feelings are that it is very important to have a grasp on the areas that the apostles journeyed and having a good map handy is essential. I will have a map available very soon with detailed descriptions and history about the cities in each province.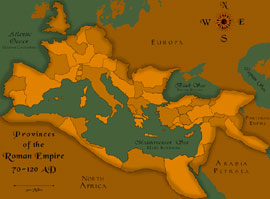 Provinces of the Roman Empire
(Click to see a larger image 200k)
Note: There are many more programs that are being upgraded to Windows and will be available soon. Please be patient and pray that the Lord frees up my very busy schedule.
The Bible Knowledge Accelerator programs are designed to be informational tools and are free to the public. To see a list of them click on:
Please feel free to distribute to friends, ftp sites, and other online services.
Archaelogical Photos, Beautiful Artwork, Comprehensive Text, Graphical Illustrations, Maps, and More.

Guestbook
Please sign the guestbook to let me know who you are and if you would like to be put on the mailing list for future updates.

BKA Downloads
List of BKA programs
About BKA Programs
Find out about more about BKA and see a list of programs.
Bible & History Art
Images and Art with Slides and Transparencies to use in your Bible studies.
Looking Backwards
Unique devotionals about the Bible and History.
Resource Directory
Lots of great links to sites about
the ancient world..
ADD A SITE
Search Engines
Some excellent search engine tools.
Study Tools
Some study tools to assist you with your online Bible studies.
Message Board
Leave a message with questions or comments.
New Maps
16 highly detailed maps on the Provinces of the Roman Empire.

Understanding Judaism is essential to understanding the unique teaching in the Bible. That is why there is a special emphasis in all the BKA programs to their culture, history, and writings.
My greatest desire in making these programs is so that they might not only help you in you studies, but that they might increase in you the desire for the rich study in his Word.