Learn about the
Ancient World
Manners and Customs


________________
Ancient Places



________________
Ancient Peoples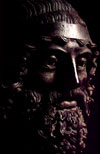 ________________
Ancient Battles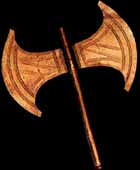 ________________
Ancient Gods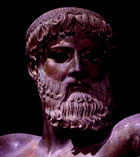 and More.


Check this site out!
The Tabernacle of Israel
by Rusty Russell
Download by clicking on this link:

Bible Knowledge Accelerator #14: The Tabernacle

Site 1 Download Size (2331 kb)
An in-depth look at the ancient Tabernacle of Israel, its furnishings, details, and spiritual significance. The Ark of the Covenant, golden 7-branched Menorah, bronze Altar, the Veil, and Holy of Holies, etc. This is a rich and edifying study for the serious Bible student.
Over the ephod the High Priest wore a breastplate which was a pouch about 22-cm square made of beautifully woven material. On the front of the breastplate were fastened twelve precious stones in four rows of three. On each of these stones were engraved the name of one of the tribes of Israel. The twelve stones were in one breastplate and they speak of the oneness of the people of God; while their position upon Aaron's breast speaks of God's affection for His people. The names on the breastplate were always close to Aaron's heart just as with Christ and His precious ones.
Note: There are many more programs that are being upgraded to Windows and will be available soon. Please be patient and pray that the Lord frees up my very busy schedule.
The Bible Knowledge Accelerator programs are designed to be informational tools and are free to the public. To see a list of them click on:
Please feel free to distribute to friends, ftp sites, and other online services.
Archaelogical Photos, Beautiful Artwork, Comprehensive Text, Graphical Illustrations, Maps, and More.

Guestbook
Please sign the guestbook to let me know who you are and if you would like to be put on the mailing list for future updates.

BKA Downloads
List of BKA programs
About BKA Programs
Find out about more about BKA and see a list of programs.
Bible & History Art
Images and Art with Slides and Transparencies to use in your Bible studies.
Looking Backwards
Unique devotionals about the Bible and History.
Resource Directory
Lots of great links to sites about
the ancient world..
ADD A SITE
Search Engines
Some excellent search engine tools.
Study Tools
Some study tools to assist you with your online Bible studies.
Message Board
Leave a message with questions or comments.
New Maps
16 highly detailed maps on the Provinces of the Roman Empire.

Understanding Judaism is essential to understanding the unique teaching in the Bible. That is why there is a special emphasis in all the BKA programs to their culture, history, and writings.