Face of Augustus (Emperor of Rome)

How did Caesar fulfill the prophecy that the Messiah would be born in Bethlehem?
This painted sketch from the Vatican Museum reveals the face of Augustus Caesar from a A half-body picture of Augustus depicting him as the most powerful ruler of Rome according to his right hand gesture. It's the Prima Porta Statue of Rome. His face also renders the youthful look of the emperor despite his age of 40 when this statue was constructed.
The face of Caesar Augustus from the Prima Porta Statue at the Vatican Museum. This marble statue was discovered in 1863 about 9 miles outside of Rome, at Prima Porta, a Villa of Livia Drisilla (Augustus' wife). Prima Porta was the visitors gateway to Rome, once a traveler saw it he knew he had reached Rome.
Augustus was not only the first emperor, he was also the greatest. He definitely deserved the title 'father of his country'. He exercised authority concerning both Rome and the provinces with great wisdom. He boasted that he had transformed Rome from a city of brick into a city of marble. The face on the statue of Augustus is important in the study of Biblical Archaeology, it reveals the image and reality of a person mentioned in the Bible at the time of Christ's birth.
"And it came to pass in those days, that there went out a decree from Caesar Augustus that all the world should be taxed. (And this taxing was first made when Cyrenius was governor of Syria.) And all went to be taxed, every one into his own city. And Joseph also went up from Galilee, out of the city of Nazareth, into Judaea, unto the city of David, which is called Bethlehem; (because he was of the house and lineage of David:) To be taxed with Mary his espoused wife, being great with child." Luke 2:1-5
The Bible says that Caesar Augustus made a decree that the whole world should be taxed and this included the Jews. This happened when Jesus was about to be born. Joseph and Mary were required to travel to their ancestral cities which would have been Bethlehem for both of them. Since they were living in Nazareth it would have been an extremely long and difficult journey, about 80-90 miles depending on which route they took. It was also mainly an uphill journey seeing that Bethlehem is about 2500 feet above sea level, in the hill country of Judea. When they arrived at Bethlehem there was no room for them at the Inn because of the large crowd coming to Jerusalem for the Passover, and that night Mary gave birth to Jesus, in a stable in Bethlehem.
Vatican Museum Excerpt
The Augustus of Prima Porta, believed to have been commissioned in 15 A.D. by Augustus' adopted son Tiberius, is a majestic example of Imperial Roman statuary. It is currently under restoration, generously financed by the patrons of the Florida chapter.

It was discovered at Prima Porta nine miles outside of Rome in the villa belonging to Augustus' wife Livia. Although it may be a copy of a bronze original, dated 20 B.C., Tiberius made a significant addition to his marble copy: on the chest plate, he added scenes depicting the Roman victory over the Parthians. These scenes were used by Tiberius as a form of propaganda so that the viewer would recall the important role his father played in securing the Roman empire.

The Augustus of Prima Porta is based on the Doryphorus, a famous antique statue by Polykleitos portraying the ideal human proportions of an Athenian athlete. The depiction of Augustus portrays him as a victorious general making a speech. He is posed in the traditional controposto manner: his right leg is placed firmly forward while his left leg is bent and the heel slightly-raised. Augustus' right arm is stretched out in a noble and controlled Roman gesture and is counter-balanced by the slightly-bent left leg. Combined with these idealized features of strength and beauty, there are also personal features of Augustus: a broad cranium, deep-set eyes, sharp ridges in his brow, a well-formed mouth and a small chin. Furthermore, his face depicted in the manner of Apollo was meant to associate Augustus' abilities with those of the powerful god. Thus, Augustus wanted to portray himself as a perfect leader with flawless features, personifying the power and authority of the emperor who had the capacity to stabilize a society and an empire.
Micah 5:2 - But thou, Bethlehem Ephratah, [though] thou be little among the thousands of Judah, [yet] out of thee shall he come forth unto me [that is] to be ruler in Israel; whose goings forth [have been] from of old, from everlasting.
Luke 2:1 - And it came to pass in those days, that there went out a decree from Caesar Augustus, that all the world should be taxed.
Daniel 2:40 - "And the fourth kingdom shall be strong as iron: forasmuch as iron breaketh in pieces and subdueth all [things]: and as iron that breaketh all these, shall it break in pieces and bruise."
Acts 23:11 - And the night following the Lord stood by him, and said, Be of good cheer, Paul: for as thou hast testified of me in Jerusalem, so must thou bear witness also at Rome.

Sketch of Augustus. The sketch is from the History of the World, H.F. Helmolt (ed.),
New York, 1901 and copied from the University of Texas. This is Augustus wearing
his breastplate in which the symbol indicates all his achievement for prosperity and
peace for the Roman Empire.


6 1/2 Foot Tall Statue of Augustus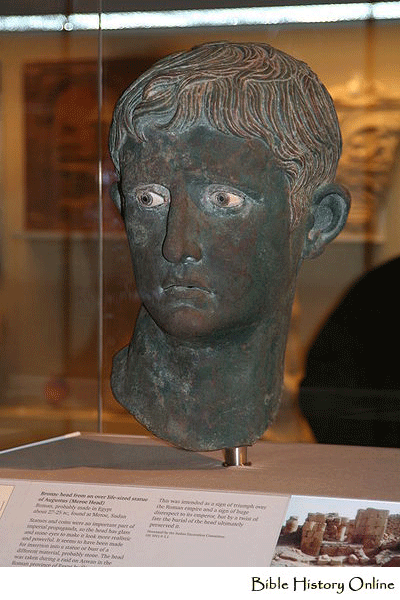 Bronze head of Augustus found in Meroe, Nubia (27-25 BC.)


Portrait of Augustus, 20–30 BC.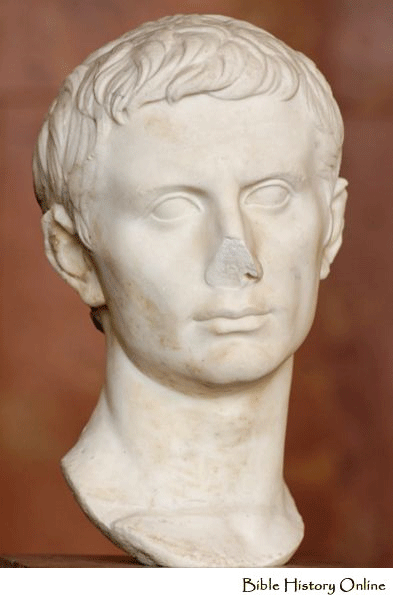 Marble bust of Emperor Augustus.

Reign 16 January 27 BC - 19 August AD 14 (40 years, 215 days)

Full name
Birth to adoption: Gaius Octavius Thurinus
Adoption to accession: Gaius Julius Caesar
As Emperor: Gaius Julius Caesar Augustus

Born 23 September 63 BC

Birthplace Rome, Roman Republic

Died 19 August AD 14 (aged 75)

Place of death Nola, Italia, Roman Empire

Buried Mausoleum of Augustus, Rome

Predecessor None (Empire founded)

Successor Tiberius

Consort to Clodia Pulchra, Scribonia, Livia Drusilla

Offspring Julia the Elder, Gaius Caesar (adoptive), Lucius Caesar (adoptive), Agrippa Postumus (adoptive), Tiberius (adoptive)

Father Gaius Octavius

Mother Atia Balba Caesonia
The Empire that Augustus Built

The awesome empire that Augustus had shaped was immense. Its boundaries were--the Atlantic on the west; the Euphrates on the east; the Black Sea, the Danube, and the British Channel on the north; and the deserts of Africa and Arabia, and the cataracts of the Nile, on the south. Only the German tribes in the far north, and the Parthians on the east, remained independent. The population of the Roman Empire during the time of Augustus was probably between 85,000 and 120,000. His standing professional army consisted of over 170,000 soldiers, besides the troops stationed in the capital, and it was they who guarded the frontiers from the many barbarous tribes. Augustus administered the whole Empire through the Provinces, who were governed by officers that received their commission from Rome. People grew up without knowing any form of government other than the Principate. Augustus brought peace and prosperity throughout the empire, but it was Jesus Christ, the Prince of Peace, who would ultimately utilize this young empire and bring true peace to mankind. It is amazing to see just how much the Lord had prepared the world for the spreading of His gospel. Edward Arthur Litton well said:

"The devout student of history must recognize in the political state of the world at this time a remarkable preparation for the promulgation of Christianity. The peace which the empire enjoyed; the excellent roads which the Romans constructed wherever they established themselves; the presence of the imperial legions in every important place repressing the outbreaks of religious fanaticism, and so affording protection to the infant church; the increase of commerce; and the leveling tendency of an imperial despotism--all manifestly contributed to the success of the gospel...There could not have been a more favorable moment for the heralds of the gospel to commence their mission."
Augustus Caesar in Wikipedia Gaius Julius Caesar Augustus (23 September 63 BC – 19 August AD 14) was the first emperor of the Roman Empire, which he ruled alone from 27 BC until his death in 14 AD.[note 1] Born Gaius Octavius Thurinus, he was adopted posthumously by his great-uncle Gaius Julius Caesar in 44 BC via his last will and testament, and between then and 27 BC was officially named Gaius Julius Caesar. In 27 BC the Senate awarded him the honorific Augustus ("the revered one"), and thus consequently he was Gaius Julius Caesar Augustus.[note 2] Because of the various names he bore, it is common to call him Octavius when referring to events between 63 and 44 BC, Octavian (or Octavianus) when referring to events between 44 and 27 BC, and Augustus when referring to events after 27 BC. In Greek sources, Augustus is known as Ὀκτάβιος (Octavius), Καῖσαρ (Caesar), Αὔγουστος (Augustus), or Σεβαστός (Sebastos), depending on context. The young Octavius came into his inheritance after Caesar's assassination in 44 BC. In 43 BC, Octavian joined forces with Mark Antony and Marcus Aemilius Lepidus in a military dictatorship known as the Second Triumvirate. As a triumvir, Octavian ruled Rome and many of its provinces[note 3] The triumvirate was eventually torn apart under the competing ambitions of its rulers: Lepidus was driven into exile, and Antony committed suicide following his defeat at the Battle of Actium by the fleet of Octavian commanded by Agrippa in 31 BC. After the demise of the Second Triumvirate, Octavian restored the outward facade of the Roman Republic, with governmental power vested in the Roman Senate, but in practice retained his autocratic power. It took several years to determine the exact framework by which a formally republican state could be led by a sole ruler; the result became known as the Roman Empire. The emperorship was never an office like the Roman dictatorship which Caesar and Sulla had held before him; indeed, he declined it when the Roman populace "entreated him to take on the dictatorship".[1] By law, Augustus held a collection of powers granted to him for life by the Senate, including those of tribune of the plebs and censor. He was consul until 23 BC.[2] His substantive power stemmed from financial success and resources gained in conquest, the building of patronage relationships throughout the Empire, the loyalty of many military soldiers and veterans, the authority of the many honors granted by the Senate,[3] and the respect of the people. Augustus' control over the majority of Rome's legions established an armed threat that could be used against the Senate, allowing him to coerce the Senate's decisions. With his ability to eliminate senatorial opposition by means of arms, the Senate became docile towards him. His rule through patronage, military power, and accumulation of the offices of the defunct Republic became the model for all later imperial governments. The reign of Augustus initiated an era of relative peace known as the Pax Romana, or Roman peace. Despite continuous wars on the frontiers, and one year-long civil war over the imperial succession, the Mediterranean world remained at peace for more than two centuries. Augustus enlarged the empire dramatically, annexing Egypt, Dalmatia, Pannonia, and Raetia, expanded possessions in Africa, and completed the conquest of Hispania. Beyond the frontiers, he secured the empire with client states, and made peace with Parthia through diplomacy. He reformed the Roman system of taxation, developed networks of roads with an official courier system, established a standing army, established the Praetorian Guard, and created official police and fire-fighting services for Rome. Much of the city was rebuilt under Augustus; and he wrote a record of his own accomplishments, known as the Res Gestae Divi Augusti, which has survived. Upon his death in 14 AD, Augustus was declared a god by the Senate - to be worshipped by the Romans.[4] His names Augustus and Caesar were adopted by every subsequent emperor, and the month of Sextilis was officially renamed August in his honour. He was succeeded by his stepson, former son-in-law and adopted son, Tiberius...
http://en.wikipedia.org/wiki/Augustus_Caesar
---
Dates in Augustus Caesar's Life

B.C.
63, September 23
50
48, October 18
45
45, October
44, MARCH 15
44, April 18
44, April 19
44, April 19
44, April 19
44, early May
44, early May
43, April 14
43, April 14-27
43, April 14-27
43, May 24
43, August 19
43, October
43, November 27
PROSCRIPTIONS
PROSCRIPTIONS
PROSCRIPTIONS
42, Spring to Winter
42, Spring to Winter
42, Spring to Winter
42, Spring to Winter
42, Spring to Winter
42, Spring to Winter
41
40
40, by July 5

40,

39
38, January 17


36
31, Sept. 2
30, August
29, August 13-15
27, Jan. 13 & 16

23, June

22
19, Oct. 12
18
17
17
17, May 31
16-13

12, March 6
11, May 4

8


January 1


4

2, January 1
2
2, August 1
A.D.
4 A.D. July
13, April 3
14, May 11
14, July 24-25
14, August 9
14, August 16
14, August 19

Events
BIRTH OF AUGUSTUS, at Rome (Suet. Aug. 5, 6, 94)
Funeral Oration for his grandmother Julia
Toga virilis (ceremony: became a man in law)
In Spain with Julius Caesar: Battle of Munda
At Apollonia in Macedonia
ASSASSINATION OF JULIUS CAESAR
At Naples
Meeting with Cicero and Balbus (Cic. Att. 14.10)
Puteoli, at Philippus' villa
Cumae, at Cicero's Villa
In Rome
MEETING WITH ANTONY in Pompey's Gardens
Battle at Forum Gallorum (Antonius Defeated)
BATTLE AT MUTINA (April 21: Antonius Defeated)
Bononia
ANTONIUS and Lepidus join forces
FIRST CONSULATE of Caesar Augustus with his cousin Pedius
MEETING WITH ANTONY AND LEPIDUS at island of Reni
SECOND TRIUMVIRATE legislated at Rome (5 years): LEX TITIA
-130+ senators (Livy)
-200 senators + 2000 equites (Appian
-Only one ex-consul known (Cicero), but nearly 100 names altogether
The Campaign aginst the 'LIBERATORS' (Brutus and Cassius)
43 LEGIONS + CAVALRY + AUXILIARIES (on side of Triumvirs)
FINANCE: 1400 rich women ordered censused and assessed: failure
Everyone with property of 400,000 HS + contribute one year's income
BATTLE OF PHILIPPI (October 23), Young Caesar sick
Young Caesar sick, in Brundisium
Perugia: Perusine War (Appian, Book 5, Dio 48, Suet. Aug. 12)
Capture of Perusia: return to Rome (Dio 48.17)
Leaves for Gaul and Spain (Dio 48. 20)
Sick at Canusium & Brundisium (Appian 5. 57)
Antonius married Augustus' full-sister OCTAVIA
(child: Antonia, the Emperor Claudius' mother)
Augustus married Scribonia (mother of his only child, Julia)
Augustus married Livia, the pregnant wife of Tiberius Claudius Nero;
there was already a small child from Claudius: Tiberius;
Drusus was born shortly thereafter. (Livia finally died in 29 A.D. at 86).
Battle of Naulochus
BATTLE OF ACTIUM
Suicide of ANTONY AND CLEOPATRA
Triple Triumph on his return to Rome
Meeting of Senate (Res Gestae Ch. 34)
Constitutional Settlement: Name of AUGUSTUS awarded
Augustus ill: Assassination attempt (Maecenas' brother-in-law)
Gave up consulship, given POWER OF A TRIBUNE (tribunicia potestas)
Journey to the East (Athens, Ephesus, Syria etc.)
Return from the East Fortuna Redux (Dio 54. 10)
LECTIO SENATUS (Revision of List of Senators) Dio 54. 12
Adoption of Gaius and Lucius Agrippa (Aug.'s grandsons) Dio 54. 18
LEGES JULIAE: de ordinibus maritandis, before May 24
LUDI SAECULARES (Games held once a century: New Age)
GALLIC AND SPANISH JOURNEY Dio 54. 19
(accompanied by Livia, Tiberius and Terentia)
AUGUSTUS ELECTED PONTIFEX MAXIMUS
Grand Opening of the THEATER OF MARCELLUS Suet. Aug. 43
Lectio Senatus Dio 54. 26
CENSUS, Lectio Senatus
AUGUSTUS CONSUL XII, Presents Caesar (heir) in public Forum
BIRTH OF JESUS, The Christ, in Bethlehem, Province of Judaea
Augustus ill, in Rome Suet. Tib. 11
CONSUL XIII Presentation of Lucius Caesar in public in the Forum
AUGUSTUS NAMED 'PATER PATRIAE' (Father of His Country)
DEDICATION OF THE FORUM AUGUSTUM and temple of Mars Ultor
Julia Scandal
LECTIO SENATUS
Augustus wrote his Will
III Census
Augustus and Tiberius leave Rome Dio 55. 29
Departure for the Balkans
Return to Brundisium, summoned by Livia
at Augustus' villa: DEATH OF IMPERATOR CAESAR AUGUSTUS


Augustus Caesar Coin
Augustus Caesar
27 years before Jesus Christ was born, the Senate of Rome bestowed upon Octavian the title Augustus. Augustus became the first "Emperor", which comes from the military title imperator. In actuality he became no more than first senator, but he skillfully combined within himself all the powers of consul, tribune, and other offices, and he really had no rival. Augustus was also shrewd in that he directly controlled the strongest military provinces. He was smart enough to avoid Julius Caesar's mistake which was to oppose the senators. Augustus brought a great Roman peace (Pox Romana) which extended all the way to the Danube River and the Black Sea. Augustus was clearly the greatest Emperor in all of Roman history, and the title "Father of his country" was well-deserved. He made many wise and clear decisions throughout the provinces, boasting that he had transformed Rome "from a city of brick into a city of marble." Augustus was very religious, as celebrated in the famous Altar of Peace in the city of Rome. He restored as many as 80 temples, he attempted to regulate morals, and he even banished his own daughter Julia for her immorality. He encouraged marriage and childbearing and he even used legislation to do so. In fact according to his census records the number of Roman citizens grew from 4,000,000 in eight BC to 5,000,000 in 14 A.D. It was during a time of great peace in the reign of Augustus that Jesus Christ was born in Bethlehem. He would have been born in Nazareth, the home of his parents Joseph and Mary, had it not been for the census ordered by Augustus, requiring all adults to register at their ancestral home towns. romanemperors.com
Augustus Caesar (63 bc- ad 14), the first Roman emperor; born Gaius Octavius; also called (until 27 bc) Octavian. He was adopted by the will of his great-uncle Julius Caesar and gained supreme power by his defeat of Antony in 31 bc. In 27 bc he was given the title Augustus ('venerable') and became in effect the first Roman emperor. [Oxford Dictionary]
Augustus Caesar (Latin: IMPERATOR CAESAR DIVI FILIVS AVGVSTVS) (September 23, 63 B.C.E. – 14 C.E.), known as Gaius Julius Caesar Octavianus (in English, Octavian), for the period of his life prior to 27 B.C.E., was the first and among the most important of the Roman Emperors. Although he preserved the outward form of the Roman Republic, he ruled as an autocrat for more than 40 years and his rule is the dividing line between the Republic and the Roman Empire. He ended a century of civil wars and gave Rome an era of peace, prosperity, and imperial greatness, known as the Pax Romana, "Roman peace." Over the next four-hundred years, Rome would establish municipalities across Western Europe and North Africa, build roads, public buildings, and construct the infrastructure of governance that still provides the basis of modern political systems. Augustus was concerned with public morality, and enacted legislation. He was a great believer in what he thought of as "republican values," such as hard work, discipline, obedience, piety, and the appreciation of art and culture. He encouraged marriage, giving tax concessions to couples with children, made adultery a crime, and he also restricted luxury and extravagance. He believed that peace depended on citizens faithfully performing their religious duties. He became head of the state cult (pontifex maximus) as well as temporal ruler. He increased the length of tenure of provincial governors because this proved to provide more stability. Throughout Europe, many different people gained a sense of belonging to the same world, governed by the same moral code and Roman law. This sense of a common European home continued to inform European thought even in the Dark Ages and still contributes to European identity today. When the founders of the United States decided to establish the office of President, they spoke of inaugurating an "Augustan Age." This refers both to the Augustan peace and to the high cultural achievement of his era, when many poems and texts on such themes as patriotism, the world of nature, and history were dedicated to him. [New World Ency]
Augustus - (Caius Julius Cæsar Octavianus) - The first Roman emperor that bore the honorary title of "Augustus"; born Sept. 23, 63 B.C.; died at Nola, Campania, Aug. 19, 14 C.E. He was the son of Caius Octavius. In his attitude toward the Jews he continued the friendly policy of his uncle, Julius Cæsar, who had made him his sole heir. With a great anxiety to arouse and to further at Rome interest in the national religion, he combined a broad tolerance for other faiths. Though he sanctioned the course of his nephew Claudius, who, while touring the Orient, had neglected to sacrifice at the Temple of Jerusalem, he showed his sympathy clearly on other occasions, both by sending gifts to the Jewish sanctuary and by causing the daily sacrifice to be offered up in his name. Judea - Under Augustus, moreover, Judea forfeited the actual or nominal independence it had possessed for a century and a half, and was made a Roman province. After the death of Herod (3 C.E.), an embassy of fifty prominent men from Jerusalem betook itself to Rome to protest against the continuance of the tyrannical rule of the Herodian dynasty, and to plead with Augustus for the annexation of Judea to Syria, and the appointment of a mild magistracy which would leave to Judea internal autonomy. About 8,000 Roman Jews joined the delegation, which was received by the emperor at the Temple of Apollo. The preliminary result of this movement was that Augustus divided Herod's realm between Archelaus—whom he appointed ethnarch, promising him the kingly title if good conduct should warrant such reward—and Philip and Antipas; making liberal provisions, also, for Salome, Herod's sister, and for his two daughters (ib. xvii. 11, § 5). At this juncture Augustus rendered another good service to Judea by unmasking and punishing a pretender to Herod's throne, who, emerging from Sidon, had passed for Alexander, one of Mariamne's slain sons, and who, on his triumphal journey from Puteoli to Rome, had gained many a follower among the credulous Jews (ib. xvii. 12). - [Jewish Encyclopedia]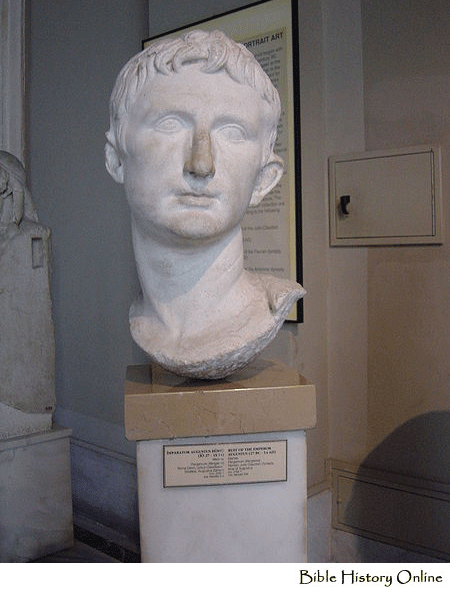 Portrait of Roman Emperor Augustus, Archaeological Museum of Istanbul.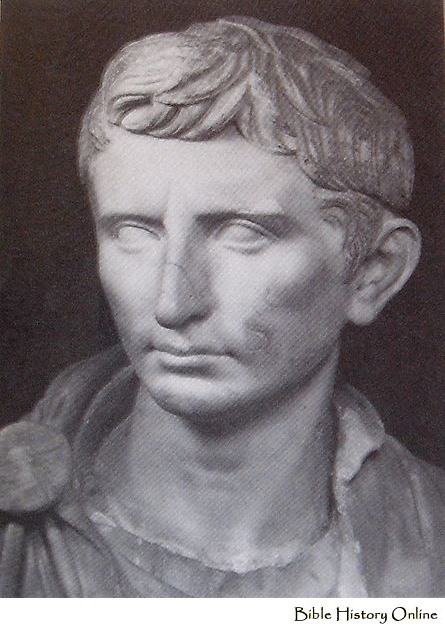 Sculpture of the first Roman Emperor as younger Octavian.
Census of the Roman People Monumentum Ancyranum, paragraph 8 ... In my sixth consulship, with Marcus Agrippa as colleague, I made a census of the people. I performed the lustration after forty-one years. In this lustration the number of Roman citizens was four million and sixty-three thousand. Again assuming the consular power in the consulship of Gaius Censorinus and Gaius Asinius, I alone performed the lustration. At this census the number of Roman citizens was four million, two hundred and thirty thousand. A third time, assuming the consular power in the consulship of Sextus Pompeius and Sextus Appuleius, with Tiberius Cresar as colleague, I performed the lustration. At this lustration the number of Roman citizens was four million, nine hundred and thirty-seven thousand. . . .[SOURCE BOOK OF ROMAN HISTORY]
---
Some Scriptures mentioning the word "Rome"
Acts 23:11 - And the night following the Lord stood by him, and said, Be of good cheer, Paul: for as thou hast testified of me in Jerusalem, so must thou bear witness also at Rome.

2 Timothy 4:22 - The Lord Jesus Christ [be] with thy spirit. Grace [be] with you. Amen. <[The second [epistle] unto Timotheus, ordained the first bishop of the church of the Ephesians, was written from Rome, when Paul was brought before Nero the second time.]>

Acts 18:2 - And found a certain Jew named Aquila, born in Pontus, lately come from Italy, with his wife Priscilla; (because that Claudius had commanded all Jews to depart from Rome:) and came unto them.

Colossians 4:18 - The salutation by the hand of me Paul. Remember my bonds. Grace [be] with you. Amen. <[Written from Rome to Colossians by Tychicus and Onesimus.]>

Ephesians 6:24 - Grace [be] with all them that love our Lord Jesus Christ in sincerity. Amen. <[To [the] Ephesians written from Rome, by Tychicus.]>

Philemon 1:25 - The grace of our Lord Jesus Christ [be] with your spirit. Amen. <[Written from Rome to Philemon, by Onesimus a servant.]>

Acts 2:10 - Phrygia, and Pamphylia, in Egypt, and in the parts of Libya about Cyrene, and strangers of Rome, Jews and proselytes,

Acts 19:21 - After these things were ended, Paul purposed in the spirit, when he had passed through Macedonia and Achaia, to go to Jerusalem, saying, After I have been there, I must also see Rome.

Acts 28:16 - And when we came to Rome, the centurion delivered the prisoners to the captain of the guard: but Paul was suffered to dwell by himself with a soldier that kept him.

Romans 1:7 - To all that be in Rome, beloved of God, called [to be] saints: Grace to you and peace from God our Father, and the Lord Jesus Christ.

Galatians 6:18 - Brethren, the grace of our Lord Jesus Christ [be] with your spirit. Amen. <[To [the] Galatians written from Rome.]>

Philippians 4:23 - The grace of our Lord Jesus Christ [be] with you all. Amen. <[To [the] Philippians written from Rome, by Epaphroditus.]>

Acts 28:14 - Where we found brethren, and were desired to tarry with them seven days: and so we went toward Rome.

Romans 1:15 - So, as much as in me is, I am ready to preach the gospel to you that are at Rome also.

2 Timothy 1:17 - But, when he was in Rome, he sought me out very diligently, and found [me].
Some Scriptures mentioning the word "Augustus"
Luke 2:1 - And it came to pass in those days, that there went out a decree from Caesar Augustus, that all the world should be taxed.

Acts 27:1 - And when it was determined that we should sail into Italy, they delivered Paul and certain other prisoners unto [one] named Julius, a centurion of Augustus' band.

Acts 25:21 - But when Paul had appealed to be reserved unto the hearing of Augustus, I commanded him to be kept till I might send him to Caesar.

Acts 25:25 - But when I found that he had committed nothing worthy of death, and that he himself hath appealed to Augustus, I have determined to send him.
---
Related Pages:

Augustus: Bible Names A-G - Bible History Links - Augustus Caesar in Fausset's Bible Dictionary The first Roman emperor, reigning at Chr ist's birth (Luke 2:1, etc.). His decree that all the world should be taxed, ...
http://www.bible-history.com/links.php?cat=43&sub=1086&cat_name=Bible+Names+A-G&subcat_name=Augustus

Augustus : People - Ancient Egypt - Bible History Links - After 27 BC, he is known as Augustus. Octavian Augustus was really the greates t civil leader that the ancient world ever produced. When he came to Rome after ...
http://www.bible-history.com/links.php?cat=46&sub=3533&cat_name=People+-+Ancient+Egypt&subcat_name=Augustus+

AUGUSTUS (27 BC-14 AD) - In 27 BC Octavian was granted the title Augustus and became the first 'emperor', a term which is derived from the military title 'imperator'. Technically he was no . ..
http://www.bible-history.com/jesus/jesusuntitled00000260.htm

Bible History Online - Face of Augustus Caesar (Biblical Archaeology) - The face of Caesar Augustus from the Prima Porta Statue at the Vatican Museum. This marble statue was discovered in 1863 about 9 miles outside of Rome, ...
http://www.bible-history.com/archaeology/rome/augustus-caesar-bust.html

Augustus Caesar - Bible History Online - Augustus Caesar. That the empire survived the civil wars that destroyed the republic was largely due to the long life (63 B.C.-14 A.D.) and political skill of Ga ius ...
http://www.bible-history.com/augustus/AUGUSTUSAugustus_Caesar.htm

Augustus - Ancient Roman People - Images and Illustrations - Ancient Roman People - Augustus. Statue of Augustus. The statue of Augustus in the Vatican. ... Cast of the portra it of Augustus, Ara Pacis museum, Rome. ...
http://www.bible-history.com/ibh/Roman+People/Augustus/

Bible History Online - Bronze Bust of Augustus (Biblical Archaeology) - Painting of the Bronze Bust of Augustus at the British Museum.
http://www.bible-history.com/archaeology/rome/bronze-augustus.htm l

Augustus: Bible Names A-G - Bible History Links - Augustus Caesar in Fausset's Bible Dictionary The first Roman emperor, reigning at Chr ist's birth (Luke 2:1, etc.). His decree that all the world should be taxed, ...
http://www.bible-history.com/links.php?cat=43&sub=1086&cat_name=Bible+Names+A-G&subcat_name=Augustus

Augustus : People - Ancient Egypt - Bible History Links - After 27 BC, he is known as Augustus. Octavian Augustus was really the greates t civil leader that the ancient world ever produced. When he came to Rome after ...
http://www.bible-history.com/links.php?cat=46&sub=3533&cat_name=People+-+Ancient+Egypt&subcat_name=Augustus+

AUGUSTUS (27 BC-14 AD) - In 27 BC Octavian was granted the title Augustus and became the first 'emperor', a term which is derived from the military title 'imperator'. Technically he was no . ..
http://www.bible-history.com/jesus/jesusuntitled00000260.htm

Bible History Online - Face of Augustus Caesar (Biblical Archaeology) - The face of Caesar Augustus from the Prima Porta Statue at the Vatican Museum. This marble statue was discovered in 1863 about 9 miles outside of Rome, ...
http://www.bible-history.com/archaeology/rome/augustus-caesar-bust.html

Augustus Caesar - Augustus Caesar. That the empire survived the civil wars that destroyed the republic was largely due to the long life (63 B.C.-14 A.D.) and political skill of Gaius ...
htt p://www.bible-history.com/augustus/AUGUSTUSAugustus_Caesar.htm

Augustus - Ancient Roman People - Images and Illustrations - Ancient Roman People - Augustus. Statue of Augustus. The statue of Augustus in the Vatican. ... Cast of the portra it of Augustus, Ara Pacis museum, Rome. ...
http://www.bible-history.com/ibh/Roman+People/Augustus/

Bible History Online - Bronze Bust of Augustus (Biblical Archaeology) - Painting of the Bronze Bust of Augustus at the British Museum.
http://www.bible-history.com/archaeology/rome/bronze-augustus.htm l

The Deified Augustus - V. Augustus was born just before sunrise on the ninth day before the Kalends of October in the consulship of Marcus Tullius Cicero and Gaius Antonius [Sept. ...
htt p://www.bible-history.com/augustus/AUGUSTUSThe_Deified_Augustus.htm

Augustus : People - Ancient Egypt - Bible History Links - After 27 BC, he is known as Augustus. Octavian Augustus was really the greates t civil leader that the ancient world ever produced. When he came to Rome after ...
http://www.bible-history.com/links.php?cat=46&sub=3533&cat_name=People+-+Ancient+Egypt&subcat_name=Augustus+

AUGUSTUS (27 BC-14 AD) - In 27 BC Octavian was granted the title Augustus and became the first 'emperor', a term which is derived from the military title 'imperator'. Technically he was no . ..
http://www.bible-history.com/jesus/jesusuntitled00000260.htm

Bible History Online - Face of Augustus Caesar (Biblical Archaeology) - The face of Caesar Augustus from the Prima Porta Statue at the Vatican Museum. This marble statue was discovered in 1863 about 9 miles outside of Rome, ...
http://www.bible-history.com/archaeology/rome/augustus-caesar-bust.html

Augustus Caesar - Augustus Caesar. That the empire survived the civil wars that destroyed the republic was largely due to the long life (63 B.C.-14 A.D.) and political skill of Gaius ...
htt p://www.bible-history.com/augustus/AUGUSTUSAugustus_Caesar.htm

Augustus - Ancient Roman People - Images and Illustrations - Ancient Roman People - Augustus. Statue of Augustus. The statue of Augustus in the Vatican. ... Cast of the portra it of Augustus, Ara Pacis museum, Rome. ...
http://www.bible-history.com/ibh/Roman+People/Augustus/

Bible History Online - Bronze Bust of Augustus (Biblical Archaeology) - Painting of the Bronze Bust of Augustus at the British Museum.
http://www.bible-history.com/archaeology/rome/bronze-augustus.htm l

The Deified Augustus - V. Augustus was born just before sunrise on the ninth day before the Kalends of October in the consulship of Marcus Tullius Cicero and Gaius Antonius [Sept. ...
htt p://www.bible-history.com/augustus/AUGUSTUSThe_Deified_Augustus.htm

Augustus Caesar: People - Ancient Rome - Bible History Links - His original name was Octavius, and after his adoption by his great-uncle, C. Iulius Caes ar Octavianus, Augustus being only a title given him by the Senate and ...
http://www.bible-history.com/links.php?cat=47&sub=3537&cat_name=People+-+Ancient+Rome&subcat_name=Augustus+Caesar


Image of Octavian - Contents | Index. octavian1.gif. Return to Bible History Online.
http://www.bible-history.com/augustus/AUGUSTUSImage_of_Octavian.htm

Octavian - Gaius Octavian was born on September 23, 63 B.C., to C. Octavius and atia, a niece of Julius Caesar, by his sister Julia. The family of Octavian was a good one, ...
http://www.bible -history.com/augustus/AUGUSTUSOctavian.htm

Octavian - Ancient Roman Coins - Images and Illustrations (Bible ... - Bible History Online Images & Resource Pages, Illustrated Bible History. Categories Roman Coins in Ancient Times Ancient Images ╖ Asia Minor Cities ...
http://www.bible-history.com/ibh/Roman+Coins/Octavian/

Herod and Octavian - Herod and Octavian. Josephus on Herod Before Octavian In his long work, Wars of the Jews, the historian Josephus recounts how Herod, after providing support ...http://www.bible-history.com/herod_the_great/HERODHerod_and_Octavian.htm

Image of Young Octavian - Contents | Index. young_octavian1.gif. Return to Bible History Online.
http://www.bible-history.com/augustus/AUGUSTUSImage_of_Young_Octavian.htm

A Harmony of the Life of Jesus - Augustus - While Octavian was growing in political stature, so was Mark Antony. Among the Antony's political friends was Herod, Antipater's son. After Antipater's death by ...< /b>
http://www.bible-history.com/jesus/jesusAugustus.htm

Octavian - Bible History Online - In 27 BC Octavian was granted the title Augustus and became the first 'emperor', a term which is derived from the military title 'imperator'. Technically he wa s no ...
http://www.bible-history.com/jesus/jesusuntitled00000451.htm

Image of Octavian - Contents | Index. octavian1.gif. Return to Bible History Online.
http://www.bible-history.com/augustus/AUGUSTUSImage_of_Octavian.htm

Octavian - Gaius Octavian was born on September 23, 63 B.C., to C. Octavius and atia, a niece of Julius Caesar, by his sister Julia. The family of Octavian was a good one, ...
http://www.bible -history.com/augustus/AUGUSTUSOctavian.htm

Octavian - Ancient Roman Coins - Images and Illustrations (Bible ... - Bible History Online Images & Resource Pages, Illustrated Bible History. Categories Roman Coins in Ancient Times Ancient Images ╖ Asia Minor Cities ...
http://www.bible-history.com/ibh/Roman+Coins/Octavian/

Herod and Octavian - Herod and Octavian. Josephus on Herod Before Octavian In his long work, Wars of the Jews, the historian Josephus recounts how Herod, after providing support ...http://www.bible-history.com/herod_the_great/HERODHerod_and_Octavian.htm

Image of Young Octavian - Contents | Index. young_octavian1.gif. Return to Bible History Online.
http://www.bible-history.com/augustus/AUGUSTUSImage_of_Young_Octavian.htm

A Harmony of the Life of Jesus - Augustus - While Octavian was growing in political stature, so was Mark Antony. Among the Antony's political friends was Herod, Antipater's son. After Antipater's death by ...< /b>
http://www.bible-history.com/jesus/jesusAugustus.htm

Octavian - Bible History Online - In 27 BC Octavian was granted the title Augustus and became the first 'emperor', a term which is derived from the military title 'imperator'. Technically he wa s no ...
http://www.bible-history.com/jesus/jesusuntitled00000451.htm

The Second Triumvirate - In 43 B.C., Octavian, Lepidus, and Mark Antony were named as the Second Triumvirate ... Octavian and Mark Antony, one of Caesar's lieutenants, took the other. ...
http://www.bible-history.com/augustus/AUGUSTUSThe_Second_Triumvirate.htm

Octavian - Gaius Octavian was born on September 23, 63 B.C., to C. Octavius and atia, a niece of Julius Caesar, by his sister Julia. The family of Octavian was a good one, ...
http://www.bible -history.com/augustus/AUGUSTUSOctavian.htm

Octavian - Ancient Roman Coins - Images and Illustrations (Bible ... - Bible History Online Images & Resource Pages, Illustrated Bible History. Categories Roman Coins in Ancient Times Ancient Images ╖ Asia Minor Cities ...
http://www.bible-history.com/ibh/Roman+Coins/Octavian/

Herod and Octavian - Herod and Octavian. Josephus on Herod Before Octavian In his long work, Wars of the Jews, the historian Josephus recounts how Herod, after providing support ...http://www.bible-history.com/herod_the_great/HERODHerod_and_Octavian.htm

Image of Young Octavian - Contents | Index. young_octavian1.gif. Return to Bible History Online.
http://www.bible-history.com/augustus/AUGUSTUSImage_of_Young_Octavian.htm

A Harmony of the Life of Jesus - Augustus - While Octavian was growing in political stature, so was Mark Antony. Among the Antony's political friends was Herod, Antipater's son. After Antipater's death by ...< /b>
http://www.bible-history.com/jesus/jesusAugustus.htm

Octavian - Bible History Online - In 27 BC Octavian was granted the title Augustus and became the first 'emperor', a term which is derived from the military title 'imperator'. Technically he wa s no ...
http://www.bible-history.com/jesus/jesusuntitled00000451.htm

The Second Triumvirate - In 43 B.C., Octavian, Lepidus, and Mark Antony were named as the Second Triumvirate ... Octavian and Mark Antony, one of Caesar's lieutenants, took the other. ...
http://www.bible-history.com/augustus/AUGUSTUSThe_Second_Triumvirate.htm

Encarta Encyclopedia - Octavian, determined to avenge his adoptive father and secure his own place, vied with Mark Antony, Caesar's ambitious colleague, for power and honor. ...
http://www.b ible-history.com/augustus/AUGUSTUSEncarta_Encyclopedia.htm

Augustus Caesar in Harpers Dictionary The first Roman emperor, was born on the 23d of September, B.C. 63, and was the son of C. Octavius, by Atia, a daughter of Iulia, the sister of C. Iulius Caesar. His original name was Octavius, and after his adoption by his great-uncle, C. Iulius Caesar Octavianus, Augustus being only a title given him by the Senate and the people in B.C. 27 to express their veneration for him. He was pursuing his studies at Apollonia when the news reached him of his uncle's murder at Rome, in March, 44. He forthwith set out for Italy, and upon landing was received with enthusiasm by the troops. He first joined the republican party in order to crush Antony, against whom he fought at Mutina in conjunction with the two consuls, C. Vibius Pansa and Hirtius. Antony was defeated, and obliged to retreat across the Alps; and the death of the two consuls gave Augustus the command of all their troops. He now returned to Rome, and compelled the Senate to elect him consul, and shortly afterwards he became reconciled to Antony. It was agreed that the Roman world should be divided between Augustus, Antony, and Lepidus, under the title of triumviri rei publicae constituendae, and that this arrangement should last for the next five years. They published a proscriptio, or list of all their enemies whose lives were to be sacrificed and their property confiscated; upwards of 2000 equites and 300 senators were thus put to death, among them Cicero. Soon afterwards, Augustus and Antony crossed over to Greece, and defeated Brutus and Cassius at the decisive battle of Philippi, in B.C. 42, by which the hopes of the republican party were ruined. Augustus returned to Italy, where a new war awaited him (B.C. 41), excited by Fulvia, the wife of Antony. She was supported by L. Antonius, the consul and brother of the triumvir, who threw himself into the fortified town of Perusia, which Augustus succeeded in taking in 40. Antony now made preparations for war, but the death of Fulvia led to a reconciliation between the triumvirs, who concluded a peace at Brundusium. A new division of the provinces was again made: Augustus obtained all the parts of the Empire west of the town of Scodra in Illyricum, Antony the east provinces, and Lepidus Africa. Antony married Octavia, the sister of Augustus, in order to cement their alliance. In B.C. 36, Augustus conquered Sex. Pompey, who had held possession of Sicily for many years with a powerful fleet. Lepidus, who had landed in Sicily to support Augustus, was degraded by him, stripped of his power, and sent to Rome, where he resided for the remainder of his life, being allowed to retain the dignity of Pontifex Maximus. Meantime, Antony had repudiated Octavia, on account of his love for Cleopatra , and had alienated the minds of the Roman people by his arbitrary conduct. The Senate declared war against Cleopatra ; and in September, B.C. 31, the fleet of Augustus gained a brilliant victory over Antony's near Actium in Acarnania. In the following year (30 B.C.), Augustus sailed to Egypt. Antony and Cleopatra , who had escaped in safety from Actium, put an end to their lives. Augustus now became the undisputed master of the Roman world, but he declined all honours and distinctions which were likely to remind the Romans of kingly power. On the death of Lepidus, in B.C. 12, he be Augustus Caesar. came pontifex maximus....

Augustus Caesar in Roman Biography Augus'tus Cae'sar, called by Suetonius Octavius Cae.sar Augustus, [Fr. Octave C6sar Auguste, ok'- Sv' si'zSR' 6'giist'; It. Ottavio Cesare Augusto, otti've- o chi'si-ri 6w-goos'to,] and subsequently named, as the heir of Julius Caesar the dictator, Ca'ius Ju'lius Cee'sar Octavia'nus, the first Roman emperor, was born at Velitrae, not far from Rome, in 63 B.C. He was the son of Caius Octavius and Atia, the daughter of Julia, who was the sister of Julius Csesar. His father died about the year 60, and his mother married L. Marcius Philippus, who was consul in 56 B.C., and who superintended the education of young Octavius. At the age of twelve he pronounced a funeral oration in praise of his grandmother Julia, and four years later he assumed the toga virilis. He was adopted as a son by Julius Caesar the dictator, whom he followed to Spain in 45 B.C. According to some writers, he was present at the battle of Munda. He was pursuing his studies at ApoUonia when he learned that Caesar was killed, in 44 B.C., and that he had been appointed the heir of liis uncle. In company with his friend Vipsanius Agrippa, he went to Rome to claim his inheritance. He found a dangerous rival in Mark Antony, who had possession of the money and papers of the dictator and refused to give them up. Octavius pursued an artful and temporizing course, by which he gained the support of Cicero and other senators, and showed himself an equal match for old and experienced players in the game of political intrigue. In January, 43, the senate gave him command of an army, and sent him with the consuls Hirtius and Pansa to fight against Antony, who was in Cisalpine Gaul. The army of the senate defeated Antony near Mutina, (M6- dena,) but Hirtius and Pansa were killed in the battle. Soon after this event the command of the army was transferred to D. Brutus by the senate, which had resolved to check the growing power and ambitious efforts of Octavius. In defiance of the authority of the senate, he marched with an army to Rome, was elected consul in August, 43 B.C., (before he had reached the legal age,) and formed a coalition or triumvirate with Antony and Lepidus against M. Brutus and the other republicans....

The History of Rome - Part One 743 - 136 B.C.

Also see Roman Emperors - Photos, information , coins

Augustus Caesar in Fausset's Bible Dictionary The first Roman emperor, reigning at Christ's birth (Luke 2:1, etc.). His decree that all the world should be taxed, each going to his own city, was the divinely ordered (Micah 5:2) occasion of Jesus' birth taking place at Bethlehem. Born 63 B.C. Also called Octavius and Octavianus from his father, who died while he was young. Educated by his great uncle Julius Caesar, triumvir with Antony and Lepidus. Dissension having arisen, Octavianus overcame Antony, and gained supreme power at the battle of Actium, 31 B.C. Saluted emperor (imperator, military commander in chief originally), and surnamed Augustus Caesar, "majestic." Leaving the names and rights of the chief republican officers unchanged, he united them all, one by one, in himself. Herod, who had been on Antony's side, he not only pardoned, but even increased in power; Herod thereby became attached to his dynasty, and built him a temple of marble near the sources of the Jordan. Augustus Caesar died at Nola in Campania, in his 76th year, A.D. 14. Some time before his death he associated Tiberius with himself in the empire (Luke 3:1).
http://www.bible-history.com/faussets/A/Augustus+caesar/

Augustus in Easton's Bible Dictionary the cognomen of the first Roman emperor, C. Julius Caesar Octavianus, during whose reign Christ was born (Luke 2:1). His decree that "all the world should be taxed" was the divinely ordered occasion of Jesus' being born, according to prophecy (Micah 5:2), in Bethlehem. This name being simply a title meaning "majesty" or "venerable," first given to him by the senate (B.C. 27), was borne by succeeding emperors. Before his death (A.D. 14) he associated Tiberius with him in the empire (Luke 3:1), by whom he was succeeded.
http://www.bible-history.com/eastons/A/Augustus/

Augustus in Hitchcock's Bible Names increased
http://www.bible-history.com/hitchcock/A/Augustus/

Augustus in Naves Topical Bible An important Roman emperor Lu 2:1; Ac 25:21,25; 27:1
http://www.bible-history.com/naves/A/AUGUSTUS/

Augustus in Smiths Bible Dictionary (venerable) Cae'sar the first Roman emperor. He was born A.U.C. 691, B.C. 63. His father was Caius Octavius; his mother Atia, daughter of Julia the sister of C. Julius Caesar. He was principally educated by his great-uncle Julius Caesar, and was made his heir. After his murder, the young Octavius, then Caius Julius Caesar Octavianus, was taken into the triumvirate with Antony and Lepidus, and, after the removal of the latter, divided the empire with Antony. The struggle for the supreme power was terminated in favor of Octavianus by the battle of Actium, B.C. 31. On this victory he was saluted imperator by the senate, who conferred on him the title Augustus, B.C. 27. The first link binding him to New Testament history is his treatment of Herod after the battle of Actium. That prince, who had espoused Antony's side, found himself pardoned, taken into favor and confirmed, nay even increased, in his power. After Herod's death, in A.D. 4, Augustus divided his dominions, almost exactly according to his dying directions, among his sons. Augustus died in Nola in Campania, Aug. 19, A.U.C. 767, A.D. 14, in his 76th year; but long before his death he had associated Tiberius with him in the empire.
http://www.bible-history.com/smiths/A/Augustus/

Augustus in the Bible Encyclopedia - ISBE o-gus'-tus Augoustos: (1) The first Roman emperor, and noteworthy in Bible history as the emperor in whose reign the Incarnation took place (Lk 2:1). His original name was Caius Octavius Caepias and he was born in 63 BC, the year of Cicero's consulship. He was the grand-nephew of Julius Caesar, his mother Atia having been the daughter of Julia, Caesar's younger sister. He was only 19 years of age when Caesar was murdered in the Senate house (44 BC), but with a true instinct of statesmanship he steered his course through the intrigues and dangers of the closing years of the republic, and after the battle of Actium was left without a rival. Some difficulty was experienced in finding a name that would exactly define the position of the new ruler of the state. He himself declined the names of rex and dictator, and in 27 BC he was by the decree of the Senate styled Augustus. The epithet implied respect and veneration beyond what is bestowed on human things: "Sancta vocant augusta patres: augusta vocantur Templa sacerdotum rite dicata manu." --Ovid Fasti. 609; compare Dion Cass., 5316...
http://www.bible-history.com/isbe/A/AUGUSTUS/


Ancient Texts

The Deeds of the Divine Augustus - Text (Written by Augustus in 14 A.D.)

The Deified Augustus - Text (Written by Suetonius)